Milongas in Prague
Saturdays – Black Cat milonga
Prague's Saturday dance central: great music, great dancing. Various well-known DJs–  Ozgur Arin (Istanbul/ Nurnberg), TJoerg Haubner (Dresden) and more…,  different venues in Prague– check the calendar each week for the location.
This Alchemie milonga runs on Saturdays and has a long tradition, entrance – 100czk, a local must, from 21:00-2:00- we look forward to seeing you!
Other weekend milongas:
A sweet atmosphere in a cozy Atelier Antonie, lovely drinks offered by the hosts, every Friday night, 80czk. Plaská 4, Prague 1 from 20.00 – 0.00 organized by Jan Patera.
GROBOVKA, open air milonga on Fridays or Saturdays during Spring & Summer time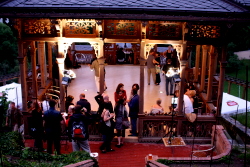 Open-air lovely milonga in a beautiful altain surrounded by vineyards, from 19.30 to 23.30, Vinicni altan, Havlickovy sady 1369 – Grobovka, Prague 2. Entrance: 100czk. Organized by Achim&Jana, contact (Achim) 00420 602 232 650
Weekday milongas:
LIMONADOVY JOE – Mondays
New milonga in a famous Czech club, local DJs, 21-24h, Revoluční 655/1, Prague 1, passage Kotva. Hosted by Club of Argentine Tango's Friend. Entrance free. Contact: klub.pratel.argentinskeho.tanga[@]seznam.cz
EL ELEMENT – Tuesdays
New regular milonga on Prague 5, Stefanikova 25, 21-24.15h, free entrance, DJ Jenda
A weekday favourite, in the hip café just at Narodni Trida. Great atmosphere, and good way to get to know the local dancers, Narodni Trida 21, first floor, from 21:00- 0:00. Entrance free. Hosted Club of Argentine Tango's Friends. Contact: klub.pratel.argentinskeho.tanga[@]seznam.cz
LUCERNA – Wednesdays or Fridays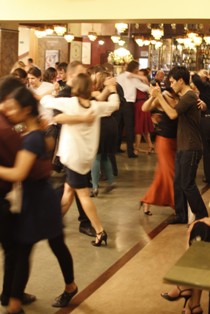 Unregular milonga in a beautiful and famous Cafe, Vodickova 36, Prague 1. Various local DJs, Cafe open for public, enrtance free, from 21-1h. Perfect to take your non-tango friends to introduce them to tango. Organized by Zdenek Pospisil, z.pospisil[@]volny.cz
For more information – check out our up to date calendar.