SONJA & SVEN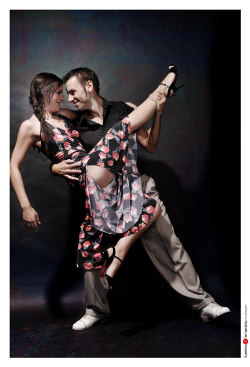 Sonja Bruyninckx and Sven Breynaert are Belgian.
Sonja's classical ballet education began at the age of 7. Sven's hip hop and street dance background dates from about the same age. They started to dance Argentinean tango in 2006 and have been teaching in Brussels and Bruges since 2009.  In 2011 they decided to dedicate their professional lives completely to the passion of the tango. In February 2013 they performed -as the first Belgian couple ever- at one of Buenos Aires' most renowned festivals: Misterio Tango festival.
They embrace tradition with dynamics and flexibility. The energy and love they share as a couple, resorts among the spectators during their performances.
"We cannot describe our style into one specific one. Our different dance backgrounds met somewhere in the middle and it works for us. …Our dancing style, goes from classical closed embrace salon style to modern tango. We emphasize on combining fun, musicality, joy and emotion in one tango!" – Sonja & Sven.
​Offering- Sonja & Sven
Don't be a square, find the circularity in your dance: giro's and sacada's.
As the circle has no beginning nor end, giro's and sacada's will make flow in a neverending movement.